Meet 39 y/o Robert Worthington. That's his mug shot below....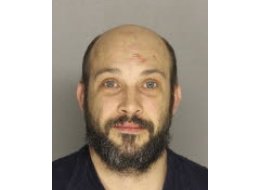 Bobby was arrested at his home on Wednesday, March 29th, 2015 in Landsdale, PA after police were dispatched reference a domestic violence dispute in the home. Apparently Bobby's wife, who had called 911, was able to convince responding officers that Bobby had sufficiently calmed down for them to agree to leave and NOT to arrest him (*** NOTE *** this, for reasons more clearly stated below, is the exception to the rule... almost every DV call results in an arrest, and for good reason, as Bobby's case demonstrates). However the "lull" was short lived as a second 911 call was placed and this time responding officers, having observed "trashed furniture, dishes and glass and threw trash all over the house", as well as determining that Bobby had hit is eight (8) y/o child with a door and alsp attacked his wife, arrested Bobby for domestic violence, child endangerment, drug possession and possession of paraphernalia.
So off Bobby goes to the Landsdale PD for booking and containment on his charges. (*** I cannot speak to PA but in FL, every person booked for a DV related offense MUST serve a mandatory 24 hour hold before being eligible for bond), and a model incarcerant Bobby is not. Per authorities, in an apparent effort at flooding his cell, Bobby repeatedly flushed the toilet, causing jailers to shut the water off at approximately 2:00 am. Little did they know that there would be a steep, and stinky, price to pay for their efforts (in hindsight, which is always 20-20, a flood would've been a "happier ending").
At 8:30 am police went to Bobby's cell to transport him to Court and what they found, and smelled, was unexpected and foul. Bobby had scooped feces out of the toilet and wiped it with his hands all over his cell, inside of his sink and even on the video camera, which captured his disgusting "art" for a solid half hour (from approximately 3:00 - 3:30 am). The video footage also showed his earlier repeated toilet flushes and even him "banging" on the camera, and resulted in both incontrovertible evidence and an additional charge of "institutional vandalism".
Needless to say, Landsdale officials are not happy...
Memo to the Folks (about Domestic Violence - DV): Domestic Violence (DV) cases present wrinkles for everyone in the system (the Defendant, the State and the Court), as they almost always involve emotional charged folks who's lives are either interdependent or interconnected, the potential for repeat or escalated violence is almost always high and there is more often then not the likelihood that a victim will, for whatever reasons, wish not to prosecute the perpetrator. For these reasons, in FL, DV cases Defendant's suffer aggressive prosecution (more aggressive than many other offenses), the State feels obligated to "force" all victim's to "help themselves" (which serves the dual purpose of covering its own ass in the event of a subsequent violent altercation) and the Court engages in pure self-protection (no Judge wants to read her/his name in the paper as being responsible for "cutting loose" the repeat DV offender who re-injures, more seriously injures or kills a victim when the Court could have acted to prevent the same from occurring). These are the practical realities of DV cases that we all must live with and it is for these reasons that there is a mandatory 24 hold (a statutorily required cooling-off period) for anyone booked into a FL jail for any DV case and that DV victim's are afforded special protections, are required to be evaluated (if only by responding officers who have a DV "checklist") and are required to be provided information about alternatives to returning to "life" with the alleged perpetrator.
Memo to
Robert Worthington:

A) You are no Bill Murray...
B) That sh*t 'aint funny, C) Nor is it a painting medium... it's sh*t, feces, fecal matter and D) Congrats on making your already sh*tty situation significantly sh*ttier.
When it comes to the subject of "Cops, Courts and Constitutions" you should always have a skilled and experienced criminal defense attorney who is focused on serving your interests. While we can't stop the cops from arresting you, as your legal counsel Michael A. Haber, PA will ensure that your rights are respected from the moment that representation begins and that any abuses which may have occurred beforehand are remedied.
At Michael A. Haber, P.A. "Its all about reasonable doubt"!
Michael A. Haber, Esq. is prepared to speak with you about your case!
Cell: 305-798-2220; Office: 305-381-8686; Toll Free: 1-888-SHARK-8-1
THIS BLOG POST (AS ARE ALL OF

HABERPA

BLOG POSTS) IS A PUBLIC SERVICE ANNOUNCEMENT WHICH IS PRIMARILY DESIGNED, BY WAY OF REAL WORLD EXAMPLE, TO ASSIST THE GENERAL PUBLIC IN AVOIDING CONDUCT WHICH COULD

FORESEEABLY

RESULT IN ARREST AND PROSECUTION!
#Webisode #YouTube #VideoFAQ #AVVO #HaberPA #Arrest #Arrested #CriminalLawyer #CriminalLaw #CriminalDefense #CriminalDefenseLawyer #MiamiCriminalDefenseLawyer #CriminalDefenseAttorney #MiamiCriminalDefenseAttorney #CriminalAttorney #DUI #DWI #DrivingUnderTheInfluence #BUI #BoatingUnderTheInfluence #DomesticViolence #DV #DVRO #DomesticViolenceRestrainingOrder #Seal #Expunge #Sealing #Expungement #CriminalRecord #CriminalHistory #PSA #PublicServiceAnnouncement #Vandalism #Feces #JailCell #InstitutionalVandalism #CriminalMischief #Shit #Crap #HolyShit #HolyCrap